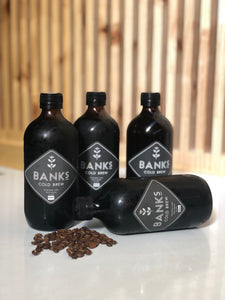 Banks presents our premium Cold Brew Coffee Concentrate.
This is a special blend made with Arabica beans from South America and Africa.
Fully washed.
Tasting Notes: Chocolate, nutty, fruits.
Individual bottle is 500ml
Our Cold Brew Coffee Concentrate is batch brewed using hand crafted techniques to produce the best product possible. 
The intense concentration allows you to enjoy it your way. Recommended equal parts water or milk / non dairy, you can control the strength of your beverage.
Firstly our beans are tailor roasted according to their origin and end use. With a carefully formulated recipe and procedure, we combine our ground beans and filtered water and leave to sit in a temperature controlled environment for 20+ hours. 
After being triple filtered, we are left with a super smooth Cold Brew Coffee that brings out the delicate tasting notes of its bean's origin. 
The Cold Brewing process eliminates bitterness and reduces acidity by up to 60%, which is great for a sensitive stomach.
And as for the caffeine, it sure delivers a full hit. Perfect for starting your day on the right foot or to give you that 2pm pick me up.